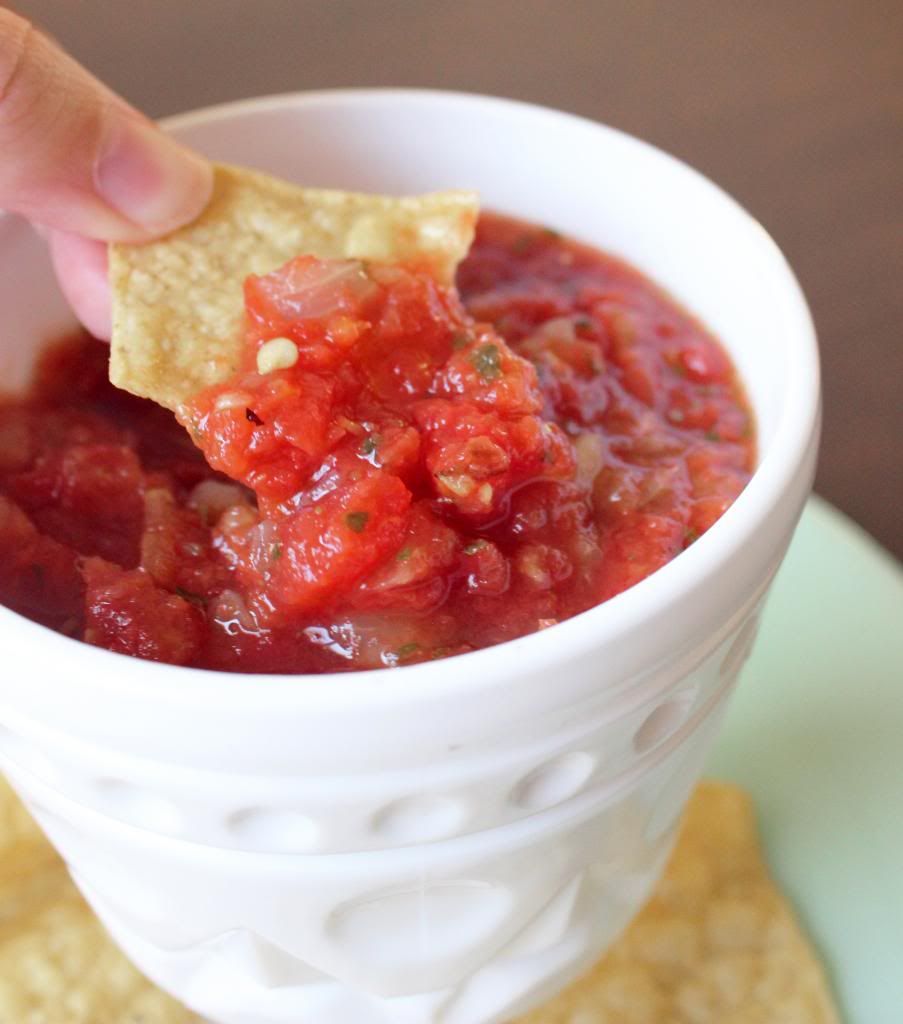 I love salsa. Probably too much.
I could eat a whole jar in one sitting all by my lonesome.
I was searching for a good recipe when I visited a friend's house and she whipped some out of the fridge that her Mexican neighbor made. She was so kind and called for the recipe.
Of course the recipe was relayed a little like this: "yeah--a few chilies ..add some garlic...some cans of diced tomatoes..." Those Mexican ladies make such good salsa and so often that they can just eyeball it and throw it together. And it always turns out amazing. But us white girls need some specific direction.
Okay, I am exaggerating a little. But I did have to do a lot calculating on my own.
This salsa is a mild-to-medium heat. It's got a fantastic flavor to it--definitely not going to taste like chopped tomatoes when you are done. And it does call for roasted chilies If you have a Little Mexico near by (like I do) you can purchase them roasted (and they are amazing). Or you can roast them in the good ol' oven as seen here.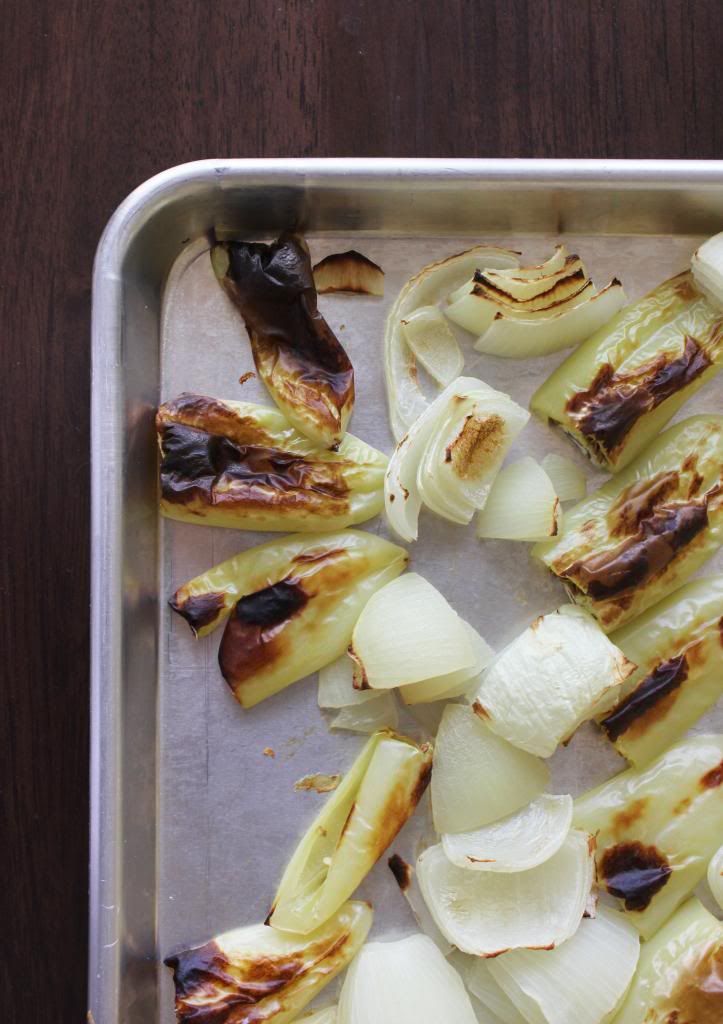 One more ingredient we should discuss is the "menudo mix". You can find it in the grocery store on the Mexican food aisle. There should be a section with little clear plastic baggies of seasonings and such. Find the baggie that says "menudo mix". That's the stuff.
Now go make some salsa!
...............................................................
Makes about one large bowl (about 112 oz)
2 onions (roasted, roughly chopped)
6 yellow chilies (roasted, roughly chopped...you can also use green chilies)
4-6 garlic cloves (depending on your love for garlic)
1 lime
7 Tbsp. jarred jalapenos with brine (I used mild)
6 14.5 oz cans diced tomatoes with juice
1/2 bunch cilantro
2 tsp. menudo mix (find on the mexican aisle in a clear plastic baggy)
1 tsp salt
1 >> Throw your roasted onions, roasted chilis, garlic, jalapenos with brine, cilantro, and juice of one lime into a food processor. Pulse until it looks like a pesto. Poor into large bowl.
2 >> Poor a few jars of tomatoes with juice into the food processor. Pulse to the consistency you like in a salsa. Poor into the large bowl as well. Repeat until you get through all the jars of tomatoes.
3 >> Add salt and menudo mix to the bowl. Stir until well mixed.
4 >> Divide into containers and store in fridge or freezer. Flavors will marry over time (which means this salsa will taste even better tomorrow!).
...............................................................