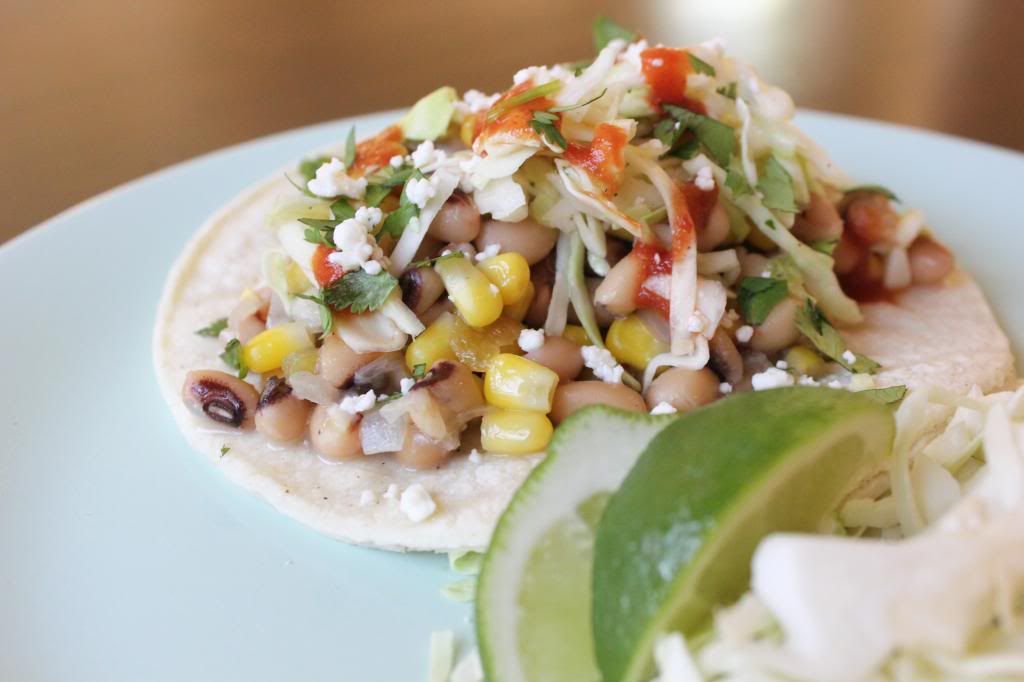 Oooooh, these tacos. I have used this recipe for close to ten years now and it's still a favorite of mine.
I love me some meat generally, but sometimes a veggie meal is so refreshing. This recipe is light, healthy, and unique.
It's called "Black Eye Pea Tacos" but in reality it would be nothing special without the corn. It makes the dish. The onions add a lot too. And the garlic....and the green chilies. Don't be afraid to be generous with the S&P.
Feel free to make this filling and use it in enchiladas, burritos, or as a nacho base too. It has been done and it is wonderful.
The garnishes are my fave though. I personally top mine with lime cabbage slaw (cabbage slaw with lime juice and a touch of salt and pepper--I witnessed my sister-in-law do this one day and I am oh so happy I did), crumbled feta cheese, and a healthy dose of
El Pato
(this link lists El Pato for sale for $3.95. If you have it in your grocery store it's usually less than a buck). Sometimes an avocado makes it in the taco as well.
I use corn tortillas because I like the texture and flavor. Although I would appreciate any pointers on how to keep the tortilla from splitting in half in the middle of taco-happiness. If (more like when) this happens, I just pretend it's an enchilada, smother it with sauce and get my trusty fork out. Still delicious.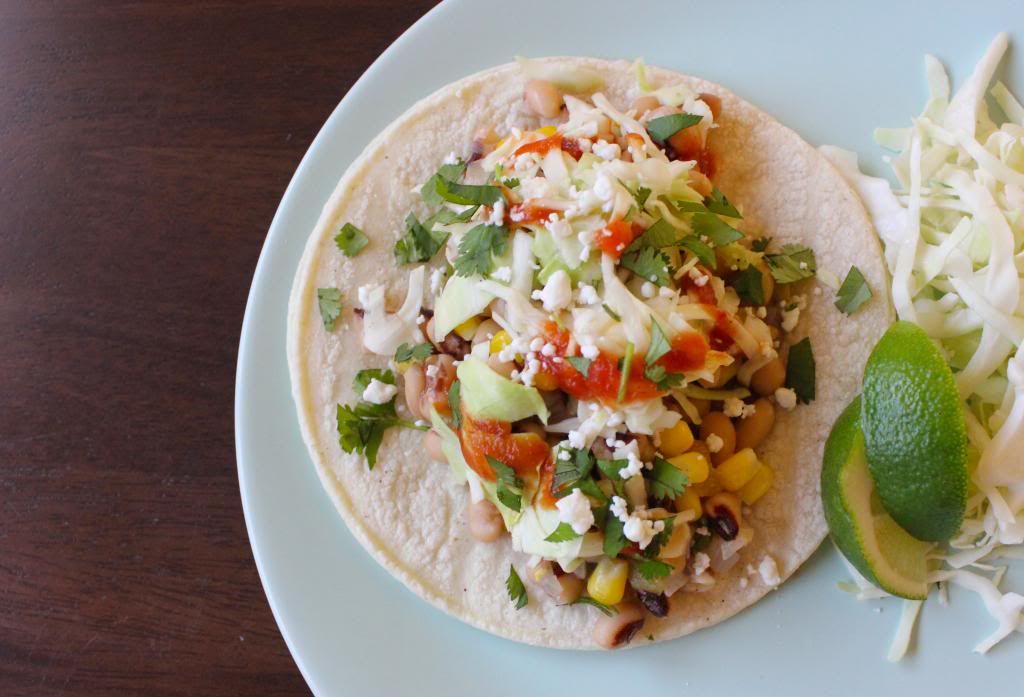 ..........................................................
Serves 4-6
1 medium onion, finely chopped
4 cloves of garlic, minced
2 Tbsp. diced green chilies (canned)
2 cans black eye peas (drained and rinsed)
10 oz frozen corn
2 c. water
1/2 c. chopped cilantro (optional--I add it fresh to my own taco)
6 inch corn tortillas
1 >> Throw some oil in a medium skillet over medium heat. Add onions. Cook until translucent and soft. Add garlic and green chilies. Season well with salt and pepper. Stir for a minute.
2 >> Add black eye peas, corn, and water to the skillet. Bring to a boil, reduce to a simmer. Simmer until most liquid has evaporated. Stir in cilantro. Season with salt and pepper. Remove from heat.
3 >> Fill your tortillas and garnish as you wish.
Suggestions for garnish >> cabbage (with lime juice and salt), fresh cilantro, crumbled feta cheese, El Pato sauce (or another hot sauce/salsa you like), avocado, sour cream
**this can also be put into enchiladas, burritos, or as a nacho base.
..........................................................