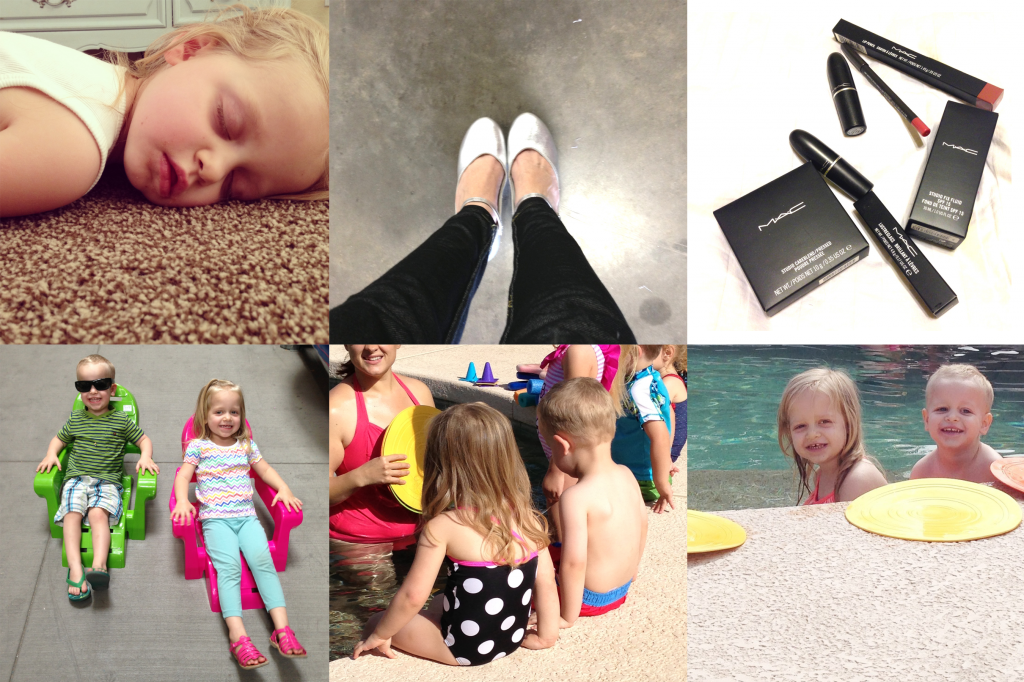 Instapeek at last week >>
>> Nora ate a churro and had to sleep it off in the middle of the floor. Their was no waking/moving her.
>> I may have found a size 5 (I have tiny feet) pair of fancy old lady tap shoes and I may have bought them...you never know when you are going to need tap shoes, right? I can feel a Halloween costume coming on. And did I mention that I have no idea how to tap? Or that I put on a little show with my pregnant self in the thrift store just to make my mom laugh? A small audience enjoyed it, although I think they thought I was serious. Their was no applause...
>> I made my once-every-year-and-a-half trip to the MAC counter. It's like Christmas for my face.
>> We went sunbathing under the florescent lights in Walmart while shopping for a little kiddie pool.
>> Swim lessons started up. I was more nervous than they were because I was certain one or both of them were going to hate it. Turns out they both love it! And it's pretty hilarious to watch Byron try to jump off the side of the pool. He has his own technique.
This week I plan to >>
>> Get some "secret project" stuff done with my Granny (way excited about this).
>> Paint and complete a print for the future online shop.
>> Head to the beach with my one and only (sigh, so need this!).
>> Hammer down some names for this baby girl (ha! Wish me luck. We are struggling.).
I am excited about what I have planned on the blog this week! Thrifty Do/Thrifty Don't, a DIY for Mother's Day, and a special Friday post about moms. And tomorrow I will be telling you how I am living happily without google reader! Yes, yes.
Hope this week treats you kindly!